Reviews for Synergy Chiropractic & Holistic Therapy

What others say about chiropractic care can help you make the right health care choice. Review a selection of our patient testimonials below and please contact the office if you have any questions.
Yours in Health,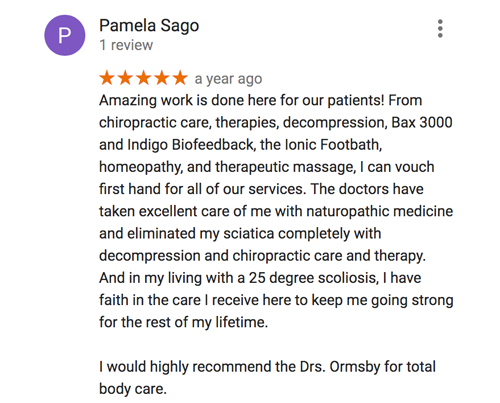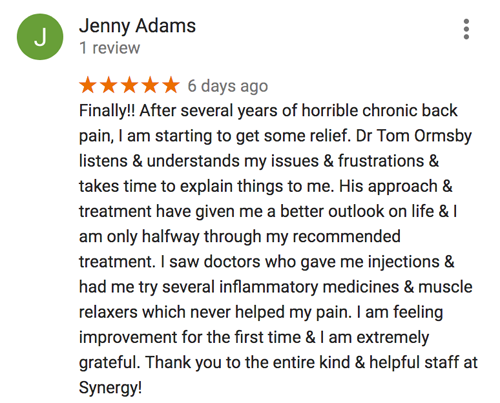 ---

Testimonials
See What People Have to Say
It was a very good overall experience!

I felt very comfortable at my visit, the doctor and the staff were very nice and listened to what my concerns were. I look forward to being able to go back and hopefully start feeling better soon.

Wonderful practice and my experience was above par for an initial visit. I would highly recommend anyone to visit this facility!

A Heart felt thank you for helping me!

Very friendly and welcoming. Made me feel comfortable. Thanks!

Everyone in the office was so nice and welcoming!

Can't wait to get started on treatment!

Great front office staff, doctors, and massage therapist. Awesome first experience and confident that the team will be able to help me!

Everyone was very thorough and kind. I think Kari and I will be best friends! I can't wait to go back and find out how bad my back is and get adjusted!

Listens to complaints and actually works with you so you understand what the process will be like. Very transparent on their process, and straight to the point.

Dr. Tom is very skilled and knowledgeable. Karrie is amazing she is the best P.T. I've ever been to. That's why I came back!

Thank you for accepting me as a new patient. My experience with new patient in-take, my assessment and adjustments were outstanding. The office is professional, comfortable I felt welcomed and appreciated.

Very happy to have Dr Tom helping me to correct my current back problem. I have complete confidence in him. He has helped me in the past, successfully correcting my problem.
---
All Areas of Concern Are Addressed
This office staff works together to make sure you get the best overall experience. Everyone cares about you and your total well being. The doctors take their time with you & don't rush you out -and the therapist makes sure she addresses any areas of concern.
-Carlee F.
Confident In Care
A very professional helpful, courteous, friendly and informative group of wonderful people. Dr. Thomas is great, put me at ease and explained everything very well I have much confidence that they will help me get back to full health.
-Victor G.
The Staff Was Outstanding
The staff was outstanding. Dr Thomas Ormsby did a fantastic job putting my back and neck back in line. I especially loved the care provided by Carrie who taught me exercises to perform at home and was wonderful in the therapeutic massages she provided. The staff who scheduled appointments and discussed my health care costs also did an amazing job. Thank you, everyone!!
-Audrey O.
Extremely Helpful
My initial visit and visits to follow have been extremely helpful. I've suffered a migraine and severe pain in my neck since mid-April. I've seen my family doctor, neurologist and I've gone for physical therapy with absolute no relief. After three appointments I'm already improving.
- Yvonne Z.
Grateful For The Experience
Very friendly staff! Dr Ormsby is interested in helping and creating overall wellness versus just treating the symptoms. I am grateful for the experience.
- Emmanuel T.
Extremely Patient and Friendly
Staff was extremely friendly and patient. I am confident that my needs will be met and that I will start living a more pain-free life thanks to Synergy!
-Michael H.
Awesome!
MICHELE IS AWESOMEEEEEE…EVERYONE IS AWESOME. Kari is so awesome I simply love her !!!! Everyone was so amazing.
-Dorothy B.
Great Work
Great work by Synergy team. On the way to on the mend!
-Gerhard S.
Look Forward to Coming Back!
Thank you for your help and patience with me. I appreciate everything and look forward to coming back.
-Laura Z.
Good Job
Good job, and I know you can fix my knee up so I can go back to my riding and keeping up with my home.
-Fran N.
The Very Best
Everyone at SYNERGY was very kind and helpful. Dr. Ormsby is fantastic. With an uncanny ability to know exactly what adjustments and therapy is needed, for each visit. I know Dr. Ormsby has taken his profession to a higher level rarely seen. I have had plenty of experience with the Chiropractic profession and without exception SYNERGY CHIROPRACTIC is a trustworthy place to get the help and understanding you need. THE VERY BEST PEOPLE AND SERVICES!
-Richard K.
Glad I Made an Appointment
Was a great experience, glad I choose to call and make an appointment
-Tyler R.
Great
Very friendly, courteous great experience
-Alfred B.
Best Decision
You are fabulous! Thank you for getting me in for a same day appointment as a new client. Everyone is so very nice, and I am happy to refer you to anyone needs your services. Choosing your practice, out of the numerous ones in Brunswick, was one of the best decisions I have made for myself. My pain is already decreasing and I am hopeful I will be 100% in no time at all. I also love the holistic approach to health that you offer.
-Beth W.

About Synergy Chiropractic & Holistic Therapy | (330) 220-6111