Chiropractors Brunswick Offer Natural Healing
Welcome to Synergy Chiropractic & Holistic Therapy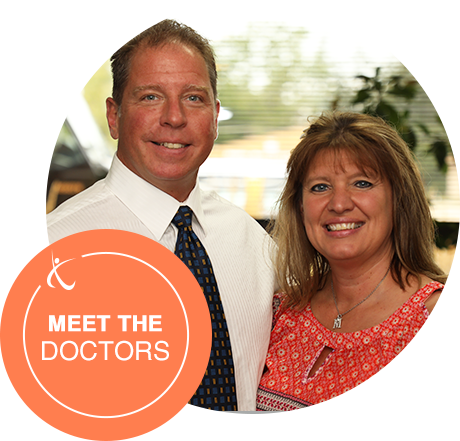 At Synergy Chiropractic & Holistic Therapy, Brunswick Chiropractors Dr. Thomas Ormsby and Dr. Wendy Ormsby are dedicated to helping you take care of yourself. Stresses are ever-present in today's world, and we're all so busy that we forget to put our health first. We'll help you recover it if you've lost your well-being, and can assist you in maintaining your wellness for the future.
Synergy is defined as the interaction or cooperation of two or more agents, substances, or other organizations to produce a combined effect greater than the sum of their separate effects.
At Synergy Chiropractic & Holistic Therapy, our goal is to provide the best chiropractic care, therapy and Holistic treatment. We do this by keeping up-to-date with the latest innovations in treatment and nutrition.
We address the "whole person" and not just their pain or problem. We seek to find the underlying cause of their problem or pain. We do not cover up the symptoms with a pill. In the end, it comes down to providing the patient with one simple thing: RESULTS!
With different approaches, Dr. Ormsby and Dr. Wendy can work together to benefit you. Their combined knowledge means you'll have decades of expertise at your disposal. Dr. Wendy has a holistic approach involving your emotional health, which can dramatically affect your body. Dr. Ormsby provides physiotherapy and various therapies that, when combined with chiropractic, get fantastic results.

Comprehensive, Holistic Solutions
All ages are welcome at our office. We understand that everyone, from newborns to senior citizens, can need help in overcoming health challenges or meeting their goals. With the use of our many treatment options, we'll determine what works for you and support you on your healing journey.
At our modern, state-of-the-art facility, you can benefit from the latest technology and techniques. The services we offer include:
Chiropractic care
Physiotherapy
Allergy intolerance treatment
Nutritional counseling
We also carry a full line of Standard Process® whole food supplements that can help your body get the nutrition it needs.
If you'd like to learn more about what our Chiropractors Brunswick can offer you, contact our friendly, caring team today! We'd be happy to answer your questions or get you scheduled for your first appointment.
Testimonials
Very friendly and welcoming. Made me feel comfortable. Thanks!

I felt very comfortable at my visit, the doctor and the staff were very nice and listened to what my concerns were. I look forward to being able to go back and hopefully start feeling better soon.

Great front office staff, doctors, and massage therapist. Awesome first experience and confident that the team will be able to help me!

Dr. Tom is very skilled and knowledgeable. Karrie is amazing she is the best P.T. I've ever been to. That's why I came back!

Can't wait to get started on treatment!

Everyone in the office was so nice and welcoming!

Wonderful practice and my experience was above par for an initial visit. I would highly recommend anyone to visit this facility!

Very friendly and knowledgeable staff. Took time to listen to my symptoms to identify and explained the cause. Provided a detailed but easy to understand and follow treatment plan.

Everyone was very thorough and kind. I think Kari and I will be best friends! I can't wait to go back and find out how bad my back is and get adjusted!

Very happy to have Dr Tom helping me to correct my current back problem. I have complete confidence in him. He has helped me in the past, successfully correcting my problem.

It was a very good overall experience!

A Heart felt thank you for helping me!

Dr. Tom was a fantastic listener and I look forward to working with him to achieve my goal.

Thank you for accepting me as a new patient. My experience with new patient in-take, my assessment and adjustments were outstanding. The office is professional, comfortable I felt welcomed and appreciated.

Listens to complaints and actually works with you so you understand what the process will be like. Very transparent on their process, and straight to the point.