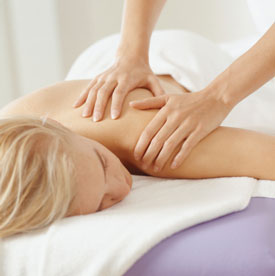 If your stress level is rising along with your growing holiday to-do list, pencil in a little decompressing "me time" this season. At Synergy Chiropractic & Holistic Therapy, we love helping our patients experience better health, both physically and emotionally. Massage is a fantastic healing modality that decreases stress, enhances well-being, relieves pain, improves circulation and much more.
Get a One-Hour Massage for Just $50!
While you're busy shopping for everyone on your holiday list, give yourself the gift of massage. Our in-house Enliven Healing Massage, LLC, is offering a one-hour massage with our Licensed Massage Therapist for just $50. We also are offering 90-minute massages available upon request. Please ask for pricing. The massage is available for purchase from Monday, November 19, through Thursday, December 20. The massage must be completed by June 28, 2019. Please note that massage is available by appointment only at our practice, located at 1659 Pearl Road, Brunswick, Ohio 44212.
Get to Know Our LMT
Kari Joy, Licensed Massage Therapist, understands that every person is unique and has specific preferences or particular challenges. She is passionate about customizing a massage to the individual's needs. Kari Joy loves helping people find relief from an array of concerns such as migraines, shoulder tension, low back pain, and sciatica. She also does TMJ work and can address plantar fasciitis. Kari Joy offers the following types of massage:
Deep tissue
Pressure point
Sports (therapeutic)
Swedish
With a refreshing and relaxing massage, you'll feel ready to take on the upcoming holiday season and beyond! To schedule your massage, please call 330-220-6111.